4
min read
Your wedding day is one of the most important days of your life, and you want every detail, including your centerpieces, to be flawless. While classic floral arrangements are ageless, you may choose something more unique and personalized to properly express your style and individuality. Whether you're planning a rustic outdoor wedding or a sophisticated modern affair, there are a plethora of unique and unusual ideas for wedding centerpieces to wow your guests. In this post, we'll look at some of the most unusual and inspiring wedding centerpiece ideas that will take your event to the next level.
When it comes to wedding centerpieces, the options are truly endless. Instead of going for the typical floral arrangements, you can add a unique touch that will make your wedding stand out from the rest. Here are some of the most creative and inspiring ideas for wedding centerpieces.
Unique Ideas for Wedding Centerpieces:
1) Terrariums
Terrariums are self-contained ecosystems made from various plants, moss, stones, and other natural materials. They are available in a variety of shapes and sizes, ranging from small glass globes to big open containers, and can be used to give a one-of-a-kind touch to your wedding décor. They provide a natural, organic vibe that may be tailored to your wedding theme.
2) Books
The advantage of utilizing books as centerpieces is that they are easily customizable to meet your wedding theme and preferences. You can use travel-related books or guidebooks as your centerpiece if you and your partner are frequent travelers. If you and your partner are both lovers of the same author, you can incorporate their works into your décor.
3) Lanterns
Lanterns as wedding centerpieces can create a romantic and welcoming atmosphere during your event. They are available in a range of styles, ranging from rustic to modern, and can be utilized in a variety of sizes and shapes to create a consistent theme. Lantern centerpieces can make your wedding décor feel more cozy and private. They create a warm and friendly environment that people will remember for years to come.
4) Fruit and Vegetable Displays
Incorporating a fruit and vegetable display as a centerpiece in your wedding is a unique and creative way to bring color and natural beauty to your décor. Use a large, beautiful bowl or platter to arrange a variety of fresh produce, such as apples, oranges, pears, grapes, and berries, in an attractive and visually appealing manner to create a fruit and vegetable centerpiece.
5) Balloon Clusters
Balloon clusters can add a fun and whimsical touch to your wedding centerpieces. They can be created in a variety of colors and shapes, making them a versatile option that can be customized to match your wedding theme and style.
6) Candelabras
One advantage of using candelabras as centerpieces is their versatility. They come in a range of styles, from ornate and traditional to sleek and modern, making them suitable for a variety of wedding themes and styles. They can be used in different sizes, heights, and colors depending on your personal preference and the size of your tables.
7) Unique Vessels
There are many options for unique vessels, depending on your wedding theme and style. For example, you can use vintage teapots, mason jars, terracotta pots, wine bottles, or even old books as vessels for your centerpieces. You can also choose vessels in a variety of shapes and sizes to add visual interest and variety to your tables.
8) Miniature Gardens
A miniature garden can be a unique and charming idea for wedding centerpieces. The
floral arrangements
adds a natural touch to your setup that is sure to wow your guests. This type of centerpiece can be both beautiful and functional, as guests can take them home as a memorable and long-lasting wedding favor. It can be a beautiful and unique wedding centerpiece that guests will remember long after the wedding is over.
9) Wine Bottle Centerpieces
Collect empty wine bottles in different shapes, colors, and sizes. You can ask friends and family to save their wine bottles or collect them from local restaurants or bars. Before using the wine bottles as centerpieces, clean them thoroughly with soap and water. You can also remove the labels by soaking the bottles in warm water and scrubbing them off. Once the bottles are clean and dry, decorate them with ribbon, twine, or lace to match your wedding theme.
10) Hanging Centerpieces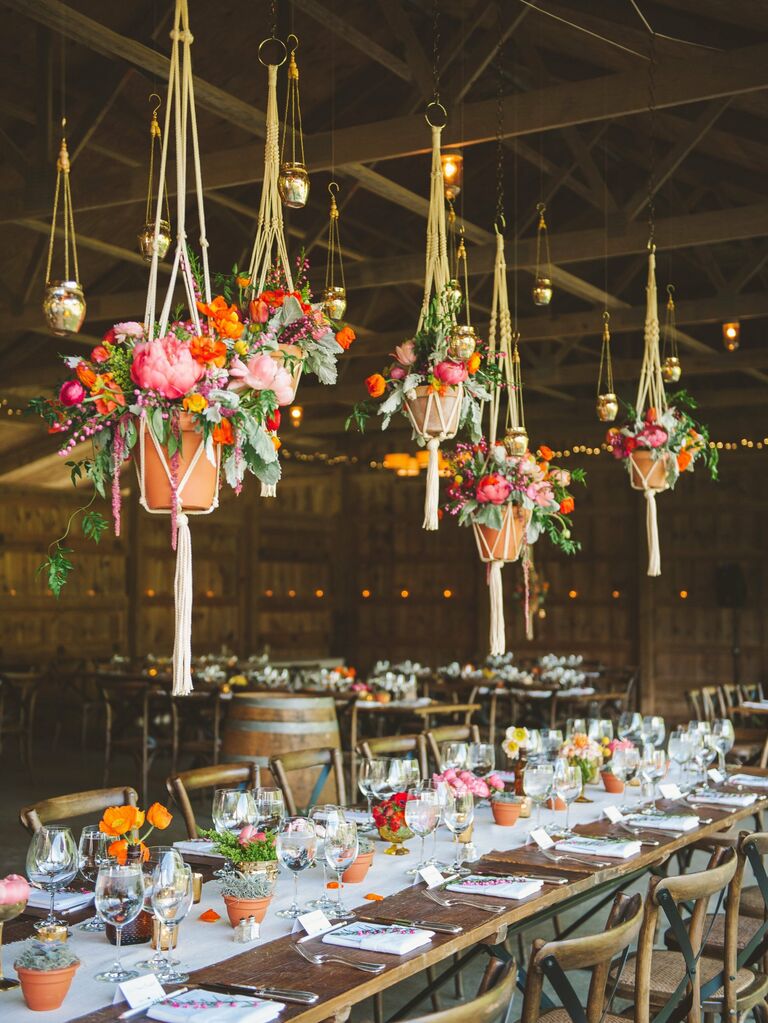 Hanging centerpieces are a unique and modern idea for wedding centerpieces. They add a touch of elegance and drama to your wedding décor. It is important to choose the right materials to assemble the base. With a little creativity and some basic materials, you can create unique and beautiful hanging centerpieces that will be sure to wow your guests.