5
min read
Why do we keep photos in our wallets or why do we still have our childhood albums? Even though we have always heard, "Live in the moment" because that photo will make you remember the exact moment you were into. A wedding is the best moment to create that unforgettable photographic memory. While wedding pairs are the showstoppers, bridesmaids are the second head of the line. That is why bridesmaid poses are a must you should check out.
The connection that the bride and bridesmaids' duties are something that is imperishable. So to honor our bridesmaids and help them to cherish those forever memories, here we are again. This time we are back with something that you would love.
15 Slaying Bridesmaid Poses Ideas
Here is our list of favorite bridesmaid poses that the photographer should definitely capture during the wedding. So your eyes will shine when you will see those beautiful pictures. Without any further delay. Here are the top 15 bridesmaids' poses you must try.
Let's begin bridesmaids!
1. IT'S SPRINKLING
When you and your girls love the rainy season then this is the best pose you can opt for and style it with these little cute umbrellas. Wear light color shades to enhance your look and photo. Now act normal for a perfect candid photo.
2. ROYAL BRIDESMAID POSES
Weddings are full of rich colors, elegant designs, beauty, and individuals with oozing confidence and class. If you and your friends want to give out that royal feel, try out this pose to look as royal and elegant in this picture.
3. WITH THE LOVED ONE 
The most excited people at the wedding are your squad. Surrounded by your loved ones and clicking pictures with them is a must because the shining smile on the bridesmaids' faces shows the viewer how happy they are for their sister. 
4. BRIDESMAID POSES AT BEACH
Are you planning your wedding at the beach? Then click these types of pictures with your girl gang. Because those breezes will flip your hair in a way that you don't care about. These candid shots will make you laugh after years when you will see the pictures.
5. WE "THE CRAZY ONE"
 The crazy squad member getting married is the most emotional thing. Wear some bright colors with a ton of swag.  Gather your bridesmaids for a variety of poses like goggles and candid photos. Let loose with silly faces and give poses so that your personality shine. 
6. BOUQUETS UP
A bride is a showstopper, so do a bridesmaid pose where she is in the middle. And bridesmaids will look at each other or dress the doll. Since posing with a flower will never go out of trend, you'll love having photos like this.
7. SELFIE QUEENS
Who doesn't like selfies right? And I'm sure all the beautiful queens out there would love to pose for a selfie with their favorite filters and the classic pout face. Make sure your photographer captures those cute moments.
8. FIRST LOOK
As the bride's special day is priceless so does reaction. You might be planning a first look with your mister, but make time for one with your bridesmaids too.
Take some advantage of this time on your busy special day. Those reactions will make your special day the most memorable day. Ask your photographer to sneak a few photos of your bridesmaids watching everything unfold.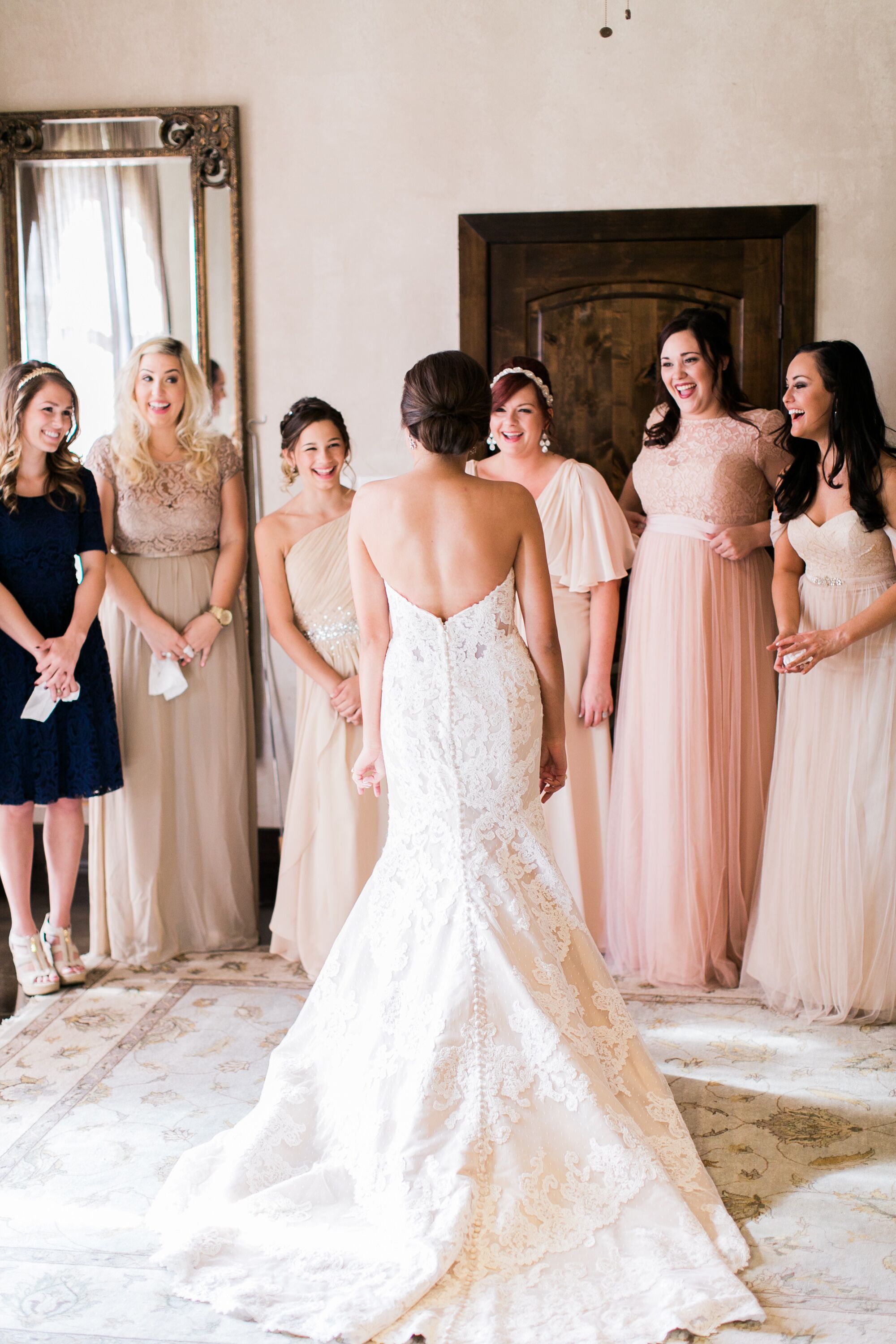 9. A PERFECT GROUP SHOT
Girls are known for being extremely well-coordinated and can pull off any pose with some extreme sass and ease. So what are you waiting for? This is the perfect group shot for all you lovelies to cement the fondest memories with your best friends.
10. POSE WITH THE LOYAL ONE
It is the best time to include your furry one in your bridesmaid gang. This photo will instantly fill you up with joy and brings shine to your face. You can surely see the cuteness of this photo. Pet lovers just come forward and pull off this trend. Your pets will love all the attention.
11. THE SASSY BRIDESMAID POSE
After you have posed for solo pictures, it's time to bring your sassy queen together. Go back to your childhood memories and recreate some of them like this picture. The wedding album is incomplete without the bride with bridesmaids' photo.
12.  STYLISH QUEUE OF BRIDESMAID
This is the most traditional and common bridesmaid pose that everyone does. So why miss it? Try something unique with your gang. You'll be grateful to have pictures like these. The V-shape gives a symmetrical feel to the picture, which makes it look aesthetically balanced.
13. AT THE VENUE
When the wedding is complete, pose for a few shots at the venue with your wedding party. It will remind you of the essence of the location when you these pictures. Make V- shape or do any funny pose with your queens.
14. WITH THE SIBLINGS
If you have siblings you must click some pictures with them. Recreate your old memories. Get all the poses, smiles, pouts, fighting, grumpy face, candid, hugs, and whatnot. If you have more than one sibling, get pictures with all of them together, and individually.
15. ONE WITH FAMILY
Last but not the least, include your family in the bridesmaid pose. This photo has to be the one where you see the tears behind smiling eyes and the purest of emotions shared between families. Even though the bride's parents might hesitate to come in front of the lens to hide their emotions, isn't this the best moment to savor and capture for the rest of your life.
Wedding photos are as important as weddings as they will revive you with the best memories of your life. I'm sure there will some fun candid shots. Take out some time to get the best shots because here you will not get retakes for another day.
These bridesmaid poses will make sure that your album feels fresh and funky always. We hope we are able to help you out with some great and elegant ideas. If you have any suggestions other than this please do share your thoughts in the comment section.