A man looks his best when he is confident in what he wears. These shoes serve him just right. He takes time to land on the perfect sherwani, but often ignores matching the right pair of shoes with it. This is why we are introducing to you the world of groom shoes for sherwani which go very well with all its varieties.
We know that 'Joota Churai' keeps your shoes away from the wedding extravaganza for a good few hours, but be reminded of all the photos that need to be taken on the day. All the spotlights would be on you. Take a look and find the pair that is a piece of you!
1. Matching shoes with the sherwani
Shoes that match perfectly with your wedding ensemble are a blessing in disguise especially when they come from ace designers. You can find both the shoes and the attire at the same place.
Any embroidery is done, matches perfectly, as they have the same source. Simply put, you get
enough time on your hands to find a pair of shoes that does justice to your sherwani.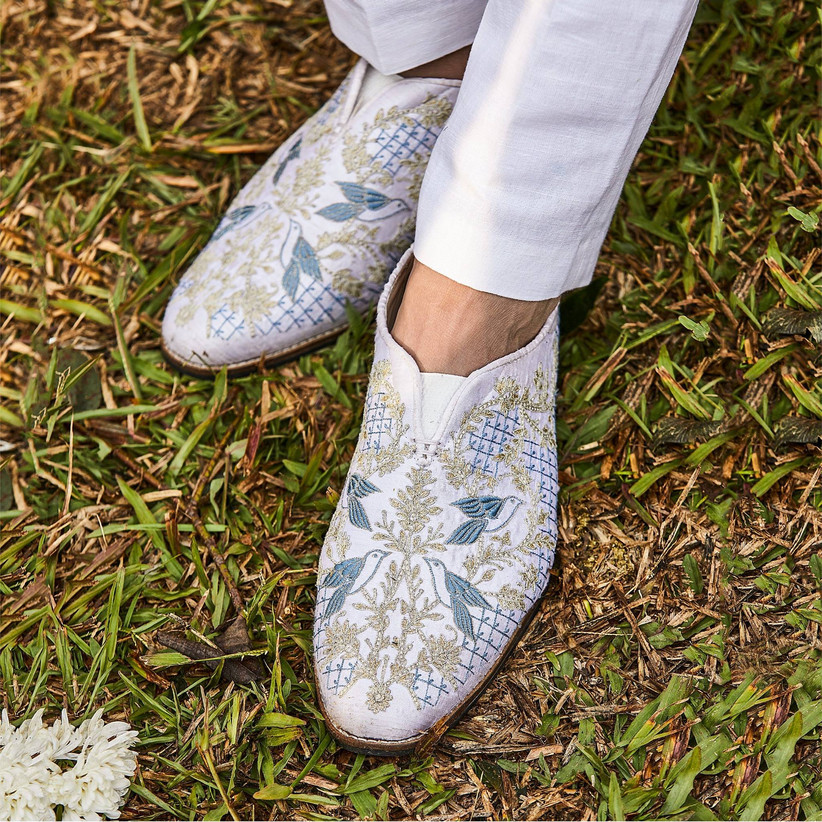 2. Backless Jootis
Backless groom shoes for sherwani are easy to slide in and perfect for super humid wedding venues. These feel very comfortable upon wear for long periods of time.  Jootis without a back can be worn as the tanned style of authentic leather or a beautifully embroidered take on the same.

3. Brogues
Blend in western trends to the glitz of your big fat Indian wedding and wear zari embellished brogue shoes. These shoes will go very well with both  Churidaar and Jodhpur pants These grooms
shoes for sherwani also go well with full floral prints and Jodhpur pants These grooms
shoes for sherwani also go well with full floral prints!
4. Embroidered groom shoes for sherwani
For grooms who wish to wear embellished shoes without looking too bright may opt for such embroidered shoes to match the ensemble. These are hand-embroidered, look perfect with all styles of sherwani, and can very well be customized to match the look perfectly. You can go for floral embroidery done on these using the same color or a palette of colors that match those on your wedding sherwani.
5. Hand embroidered groom shoes for sherwani
There is so much joy in wearing hand embroidered shoes that showcases excellent Indian
craftsmanship. Wearing these sherwani shoes for groom will surely bring elegance to your
wedding attire. You are sure to get cheers from the crowd and the bride herself.
6. Knock it off the park
If you believe in off beat trends and can carry that with confidence then you should pick these shoes.
These pairs are comfortable and chic. Since weddings have you decked up for hours, these will fit your
closet the best.
7. Leather for groom shoes for sherwani
These shoes are made from high end fabric. They have proven to be great against wear and tear, if
you are looking to make a statement at your wedding, this is exactly what you should be looking for.
8. Kolhapuris
Originally made in Maharashtra, Kolhapuri sandals are a great pick.These home made leather-based
footwear for sherwani are regionally tanned using vegetable dyes.
Thread-work embroidery enhances your sherwani. Choose these rustic sandals for a modern look.
9. Monk Strap groom shoes for sherwani
Sherwani with formal shoes takes a modern and sophisticated turn with this no lace pair. These are
known to be very adaptable and luxurious. , Monk strap stands a class apart with a contemporary
buckle and strap. With perforated and stitch details, this shoe in any color is our favorite.
10. Moccasins
Moccasins are super comfortable and lightweight to wear. You should go for Moccasins with simple
and chic Sherwani . To take your sense of style a notch higher, you can match the color of
Moccasins to the sherwani buttons and you're good to go!
11. Sandals
Sherwanis are a choice of many grooms. These shoes are so versatile that you just cannot leave
them out. Sherwanis look exceptionally smart when sandals are worn with them. Leather sandals
are a great accompaniment.
12. Black velvet embroidered Loafers
Let your shoes be the 'conversation starter' at your wedding. These will surely make the entire
room stop and stare.
13. Oxfords- groom shoes for sherwani
Sophisticated and stylish oxfords are a classic style of wedding shoes for men that complement
wedding attire greatly. Own a pair in deep brown color that would never go out of style and
would become your go-to piece.
14. Mules
Easy on functionality and big on style, mules are a must-have for building a classy ensemble.These allow your feet to breathe make your outfit look more put-together. Go for a pair in solid
black that will never disappoint you!
15. Nagras- groom shoes for sherwani
Are you looking for groom's shoes for sherwani? The only answer to that is Nagras.  They are
both stylish and simple.  Combination of Men's shoe with Sherwani is apt. They are certainly
going to attract attention from all the ladies in the room and take them by surprise.
These groom shoes for sherwani are totally trending right now. We cant stop adoring them and they are surely up for grabs. Go get yours to be flattered on your special day.