5
min read
You are embarking on a beautiful journey towards your wedding day and you are super excited for the special day. It is important to note that one element should not be overlooked as it plays a pivotal role in your bridal wedding attire. That one element that should never be overlooked is the intricate art of accessorizing your hair. Bridal hair accessories have the amazing power to completely change the way you look by adding an ethereal touch of elegance and charm that harmonises well with your bridal dress. These stunning ornaments, which range from tiny tiaras that twinkle like stars to delicately crafted bridal crowns for wedding that encapsulate the essence of romance, form a harmonic fusion of tradition, beauty, and individual flair.
We dig into the fascinating world of bridal hair accessories in this article, examining the countless possibilities accessible to modern brides and providing priceless advice on how to pick the ideal items to finish your bridal attire. The ideal hair accessory will surely become the focal point of your bridal appearance, whether you have an eye towards a timeless and classic style or want to add a modern and eclectic touch.
Ideas for Bridal Hair Accessories:
1. Bridal Hair Combs:
Bridal hair combs are adaptable, classic pieces of jewellery that can be used to arrange your hair. A strategically placed hair comb can lend a dash of glitz and sophistication to any hairstyle, whether you prefer loose waves or a traditional updo. To choose combs that go with your wedding's motif, look for ones that contain pearls, crystals, or delicate floral designs.
2. Wedding Hair Pins:
Wedding hair pins are the ideal option if you're searching for a more delicate and discreet hair decoration. To add a touch of sparkle or a splash of colour to your hairstyle, simply tuck in these tiny decorative pins. To complete your bridal look, choose pins adorned with Swarovski crystals, freshwater pearls, or elaborate beading.
3. Bridal Hair Vines: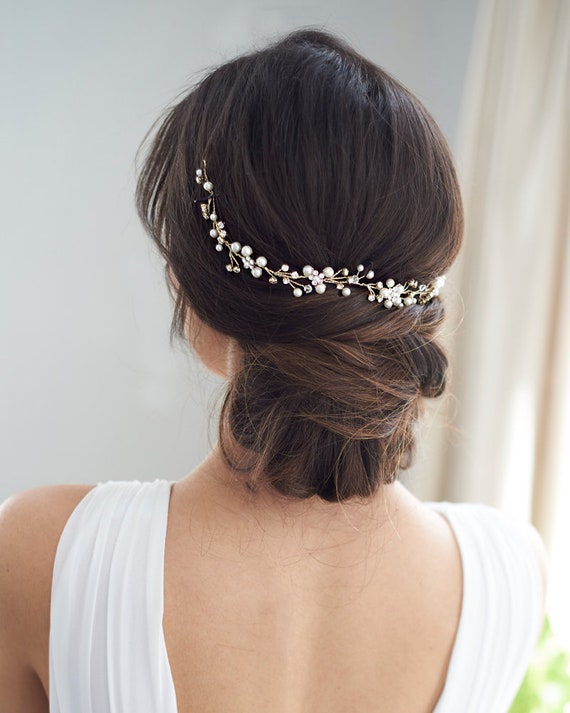 Bridal hair vines are a fantastic choice for a fanciful and ethereal appearance. These adaptable accessories can be worn in a variety of ways, such as draped across a casual hairstyle or braided through a braid. To create an airy and feminine look, select a hair vine embellished with little flowers, gems, or pearls.
4. Bridal Hairbands:
Traditional hair ornaments can be replaced with stylish and contemporary bridal hairbands. Hairbands, which range from narrow, embellished bands to broader statement pieces, can instantly improve your bridal hairstyle. Whether it has crystals, floral motifs, or complex metalwork, choose a band that matches your outfit and the wedding's theme.
5. Bridal Tiaras:
A bridal tiara is the ideal option if you've always imagined feeling like a princess on your wedding day. These regal accents give any bridal ensemble a dash of opulence and sophistication. Choose a tiara that matches your unique taste, whether it be a large, elaborate piece covered in gemstones or a delicate, tiny design.
6. Crystal Hair Comb:
Any bridal hairdo can benefit from the timeless and adaptable brilliance and refinement of a crystal hair comb. These combs, which feature elaborate patterns and sparkling crystals, can be tucked into an updo or used to hold a half-up hairstyle. Your hair will be exquisitely highlighted by the crystals' ability to catch light, giving you an ethereal radiance.
7. Floral Headpiece:
A floral headpiece is the ideal option for brides who want to give their outfit a more romantic and bohemian atmosphere. Whether you choose a bold floral headband or a delicate flower crown, these accessories bring a bit of the outdoors into your bridal ensemble. To make a harmonious and whimsical ensemble, use flowers that go well with your arrangement or are appropriate for the time of year.
8. Pearl Hairpins: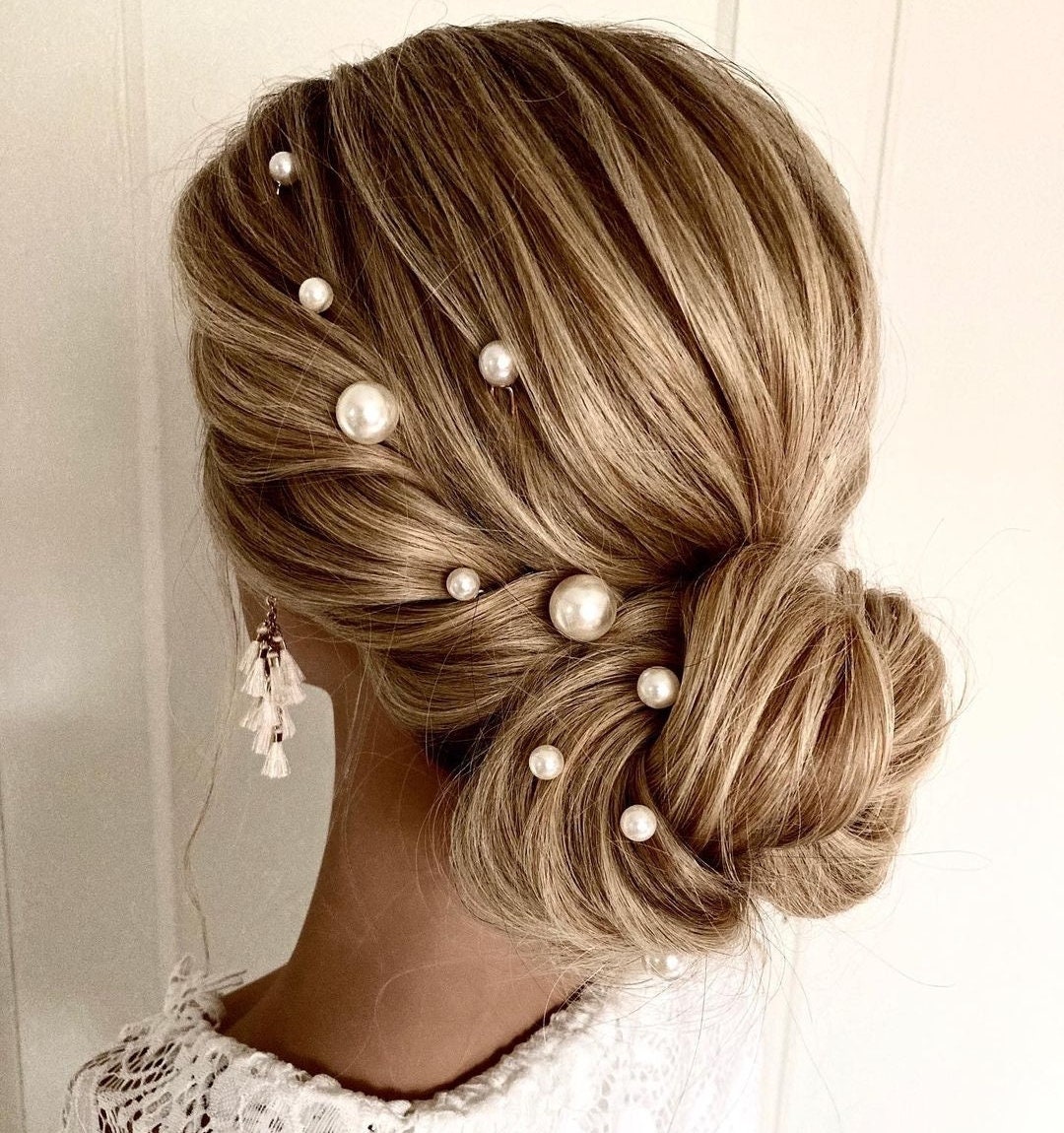 Elegant and classic, pearl hairpins are an excellent choice for brides who appreciate understated sophistication. These dainty accessories can be used to secure a loose bun or add delicate details to an updo. The pearls' luminosity enhances your hairstyle while exuding a timeless charm that will never go out of style.
9. Hairbands and Headbands:
Hairbands and headbands are versatile accessories that can be worn across the forehead or pushed back on the head. They come in various styles, including floral, beaded, or embellished with gems, and can be made of metal, fabric, or plastic.
10. Bridal Veils:
Although not strictly a hair accessory, veils are an iconic part of traditional bridal attire. They can be attached to a comb, headband, or tiara and come in different lengths and styles, such as fingertip, cathedral, or birdcage veils.
11. Hair Chains:
Hair chains are delicate chains that drape across the hair, often secured with hairpins or combs. They create a boho-inspired or vintage look and can feature crystals, pearls, or charms.
12. Hair Flowers:
Floral hair accessories, either fresh or artificial, add a natural and romantic touch to the bride's hairstyle. They can be incorporated into an updo, braid, or simply pinned into the hair.
In conclusion, bridal hair accessories play a significant role in completing a bride's wedding day look. From delicate hairpins and combs to glamorous tiaras and hair vines, there is a wide array of options available to suit every bride's style and preference. These accessories add a touch of elegance, sophistication, and personal flair to the hairstyle, enhancing the overall bridal ensemble.