5
min read
Are you looking for a perfect side braid hairstyle for Indian Weddings? You're on the right page because here we have shared how you can give a perfect look at an Indian wedding. This information will help you in finding several ideas for a Long side braid hairstyle for Indian Wedding. So, read this article thoroughly!
We have listed some of the best long side braid hairstyles for Indian weddings. These ideas will make your look flawless and you can try these braid hairstyles not only at weddings but at parties as well. The elegant side look can suit as a new reserve in traditional attire. 10+ side braid hairstyles for long hair are effortless yet graceful center braided half tie hairstyles are a sure shot win. Now without wasting time let's get into the gorgeous Indian wedding hairstyles for long hair you can go for this wedding season. 
What accessories do you need;
Elastic bands

Hairpins

Hairspray

Brush and Comb
Top 10 Long Side Braid Hairstyle For Indian Wedding
For choosing a perfect braid hairstyle we have the 10 best options that may help you! Choose anyone that you like and try out on Indian weddings or any traditional events.
1. Simple Braid Hairstyle with Traditional Accessories
Flaunting accessories on a braid hairstyle at an Indian wedding is one of the best things. So, if you have an elegant hair accessory that can highlight your hair, then have a look at this hairstyle. This is a simple braid hairstyle and I love how this beautiful bride has carried off a braid and accessorized it for her big day.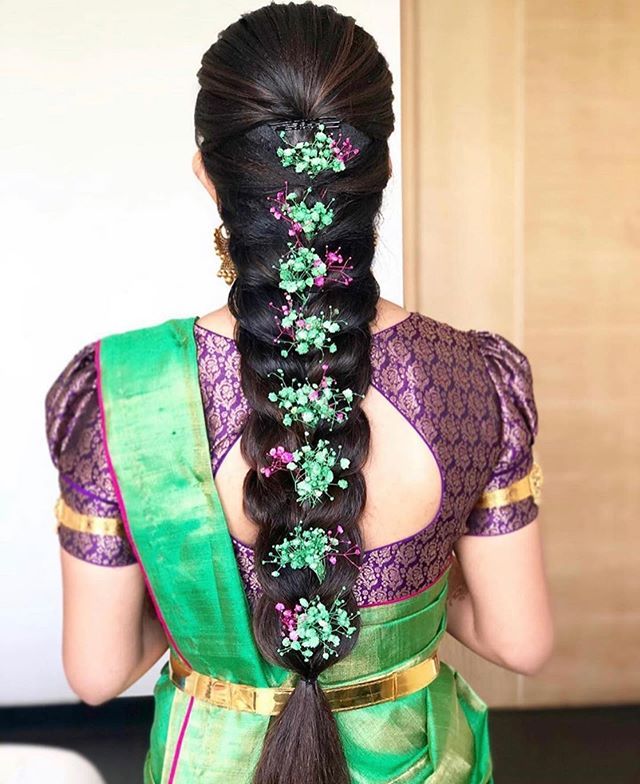 2. Side Fishtail Braid Hairstyle
This stunning side fishtail hairstyle surely makes your wedding day look impressive. In a fishtail braid, the hair has been parted on one side of the head, and the entire volume has been pulled to the front from the shoulder. The thick fishbone is only for long hair, leaving a small section of hair at the end. In addition, using pearl embellishments on the braid makes it look complete.
3. Side French Braided Bun
French braids buns are one of the cutest braids that you can try and this braid have many different variations. Long hair is perfect for this braid experiment. Many times women don't have an option to negotiate with difficult hairstyles and that's why we have shared this easy side french braid.
4. Pretty Waterfall Braids
This is a beautiful hairstyle and gives an amazing look. If you have great frizzy hair, are growing out bangs, or simply want to keep your hair off your face, this is an option we recommend. Best hairstyle for long hair try this one and make your wedding look unique and remarkable!
5. Voluminous Side Braid 
If you plan to wear a silk saree on your wedding day, try this voluminous side braid hairstyle. The one-sided, voluminous braid looks lovely with silk saris and when finished with a touch of glam, it looks almost bridal. You can give your braid a fancy look by accessorizing it with cute hair accessories!
6. Bridal Bun with a One-Sided Braid
Simple yet elegant! This hairstyle is ideal for brides who prefer simplicity over overdressing. Hairstyles featuring side braids turned into buns embellished with flowers are always a great choice for a wedding. Adding a small flower to the bun makes it even more attractive.
7. One-sided Fishtail Braided Bun
This stunning updo is perfect if you are looking for a bridal hairstyle with flowers. A fishtail bun is one-sided to add volume to the hair, and flowers complete the look with a royal flair. Isn't this up-do purely beautiful? Imagine yourself wearing it.
8. Loose Side Braid Hairstyle
If you are not the bride, then I would recommend this loose braid hairstyle with not too much jewelry. Simple braids with loose bangs and a few flowers at the back can look lovely when worn to the side. Try this hairstyle for your BFF's or sister's wedding!
9. Double Fish-Bone Braid Hairstyle 
What better way to show off your long hair than with a double fish-bone braid? It might look complicated, but it's very simple to do. To begin, part your hair in the middle. Tie two loose braids in the middle of your head for half the length. Tie the two parts of the braid together in a loose shabby manner. Add two more braids from the lower parts of the hair and knot them all together into one end braid. 
10. Mermaid Braid Hairstyle
Mermaid hairstyles are perfect for Indian brides. Regardless of the shape of your face, this will always look classy and graceful. Add hair extensions to your hair for added volume and length. As you twist a one-inch section of hair, pin the twists in alternate sides until the hair orbit reaches the head and then braid the rest of the hair like a mermaid style and secure with an elastic band at the end. Add flowers or jewels to the twists to enhance the glamour.
What are the Tips To Look Flawless On Indian Weddings?
In India, wearing a dupatta over the head is considered auspicious and traditional. To prevent your hairstyle from being messed up by the dupatta, make sure you have sprayed it well with hair-setting spray.

Choose a hairstyle that is lightweight and won't weigh your hair down if you are wearing heavy lehengas and heavy work dupattas.

Indian brides prefer to wear lots of head jewelry on their wedding day. This might affect your hairstyle, which is why you should keep a lot of hairpins and bobby pins on hand to fix any loose ends.

Simplicity is always admired by everyone. Therefore, if you think you will look amazing in simple makeup and a simple hairstyle, trust your instincts. Follow no rules requiring brides to wear heavy makeup or unusual hairstyles.r

Avoid doing experiments at the last minute. Get help from a professional hairstylist as you might be dealing with so many things. It's safer to leave the hair and makeup to someone who is experienced.
So, that is all from us! These are the 10 side braid hairstyle and we are sure this article gave you a sense of what you can do with your hair. Whatever the function is Don't go for an inelegant braid hairstyle. You should be satisfied and comfortable with your hairstyle to enjoy the wedding. I hope these side braid hairstyles for Indian weddings will help you for sure.