8
min read
The wedding season has already started the fun and the pre-wedding rituals that are important to an Indian wedding. One such ceremony that needs to be mentioned is the 'haldi ceremony which holds a special place of honor at the wedding. Haldi function is also about wearing a good outfit, venue decoration, attractive invitations, pictures, and many more also, we've shared Haldi Function ideas that you cannot miss out on at all.
To make your Haldi ceremony unique and memorable you can use color coordinate attire for the bride and groom – Like yellow attire. This will go well with the ritual and also compliment the mood. Set a color theme for the event and ask your guests to get dressed in yellow. It would be fun to see people wearing yellow attire to compliment the theme and the mood of the event. Here are some Haldi function ideas that will help you!
 
Hair is something that can change the whole look. A bride's look is incomplete if there is no perfect hairstyle. I have a list of trending simple and easy hairstyles which look amazing.
1. Simple Braided Loose Hairstyle
This is the most beautiful style and brings out a perfect ethnic look. It is beautiful and easy, suitable for ceremonies. Those who have wavy or straight hair can try this look.
2. Wavy Haldi Hairstyle
While you are busy preparing for dozens of other things and don't have time to think about which hairstyle you will be doing on your turmeric day, the loose wave hairstyle is perfect for this day.
3. Pearly Hairstyles for Haldi
Functions are incomplete without a perfect hairstyle and, open pearl hairstyles go well with the haldi ceremony. Make a flawless hairstyle like this. And is highly preferred for open or half-tied hairstyles.
4. Hairstyle For Short Hair
The best way to look stunning in short hair is to go with an open straight look. This twisted side braid is easy to handle. Just add a flower to your hair and your outfit will complete your look.
5. Bun Hairstyle For Haldi
Bun hairstyle always looks awesome on any occasion. The bottom bun will never go out of fashion. Such a look of perfect turmeric will never let you down.
We have shortlisted some stunning haldi dresses which will make you look more beautiful. View and bookmark the ones you love the most.
1. Yellow Lehenga with Mirror Work
This gorgeous lehenga is perfect for the Haldi ceremony. The yellow-colored lehenga has mirror work and makes the dress more beautiful. Accessories should be minimal with this outfit as the lehenga is fabulous.
2. Purple Lehenga Haldi Outfit
A graceful lehenga that you just couldn't stop admiring yourself because of its simplicity and elegance. This dress can be worn at various events. And this option is perfect for Turmeric Day!
3. Indian Salwar Kamiz Look
The most comfortable and beautiful suit that you will not be able to take your eyes off. Such an amazing salwar kameez look and dazzling design make your haldi look amazing.
4. Silk Saree For Haldi Function
This silk saree is another great option for the Haldi function. As brides always flaunt in saree. They can revamp it and create a new and exciting look.
5. Traditional Yellow Cotton Saree
The yellow cotton saree is a perfect yet simple outfit for the bride for the Haldi ceremony and the saree gives a traditional and elegant look to the bride.
Floral jewelry has been in trend for a long time and brides are more than surprised. The cultural practice has started, where women used to apply floral ornaments in their Mehndi and Haldi ceremonies. The flowers are quite vibrant and, they look very beautiful for any outfit. It matches the vibes of the Haldi ceremony. And the floral jewelry designers leave no stone unturned in creating unique designs for their clients.
1. Maang Tikka Flower Jewellery
Maang tikka is a piece of jewelry that makes women beautiful. Be it haldi or mehndi function floral maang tikka is the best option.
2. Haath Phool Design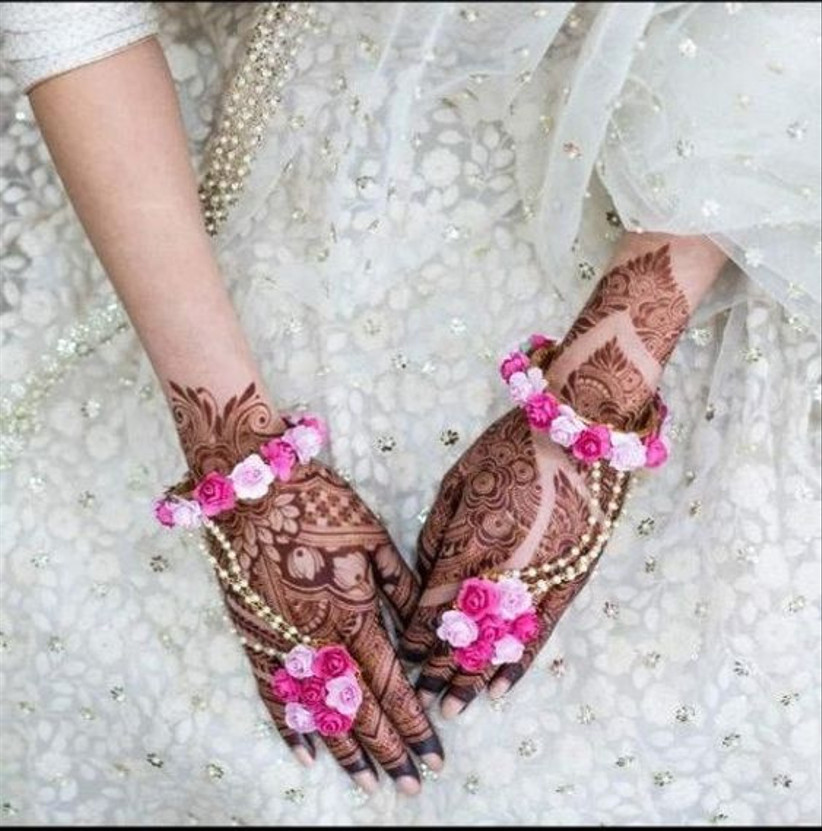 Here is the perfect flower hand flower design for your Haldi ceremony! The jewelry adds the perfect artistic touch to the bride's look. And adds charm to your outfit with this beautiful hand flower.
3. Hair Tiaras for Haldi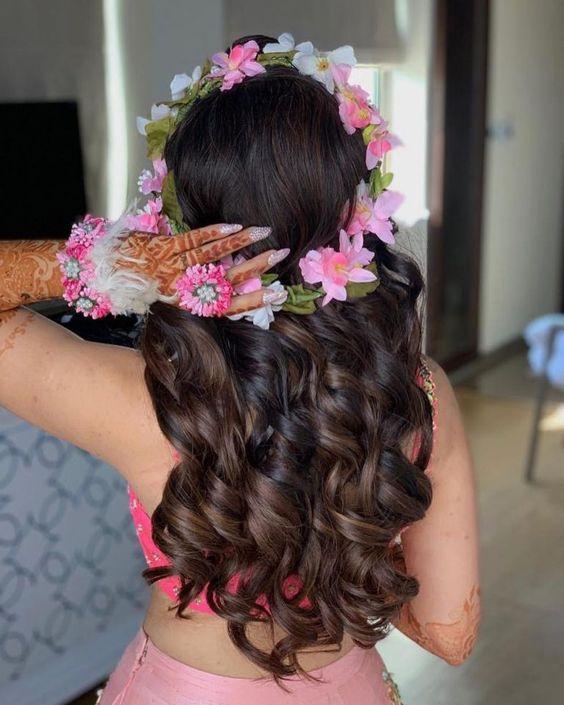 Floral bridal jewelry is the best choice for the bride who wants to sway in fashion by wearing this tiara. These head-mounted tiaras are making brides of millennia.
4. Kalire Floral Jewellery for Haldi
Brides are replacing the traditional kalire with floral ornaments. Since it is light in weight and available in varieties of colors, it is also in trend for turmeric ceremonies.
5. Flower Jewellery for Haldi
Nowadays, people use floral ornaments for their Haldi and Mehndi ceremonies and jewelry designers create some new and unique jewelry for the new age brides.
The Haldi ceremony is a beautiful, super-fun ceremony filled with colors. A colorful ceremony dazzles with stunning pictures and makes it amusing for your wedding guests as well. Photos make the ceremony more memorable by giving exciting poses.
1. Haldi Poses for Bride
Brides are the center of attraction. By now, you must have seen tons of wedding pictures and you don't know which pose you like the most. Here you can see the stunning picture of the Haldi ceremony.
2. Haldi Pose of Groom
The groom is also the center of attraction at the wedding. Don't forget to capture her because her picture is also very important.
3. Haldi Ceremony Poses with Parents
In the love of this picture, it is necessary to take a family photo in any function. This family picture of you showering all the love on your daughter is adorable.
4. Haldi Photo Poses with Relatives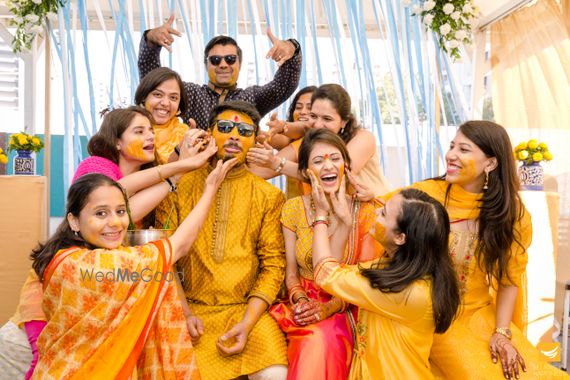 No ceremony is complete without a nice picture with relatives as they make the ceremony more memorable.
5. Wedding Haldi Pose with Friends
It is mandatory to have a photo with friends at a wedding, this moment makes a hit.
Nowadays most people prefer digital invitation cards. Because it is convenient, people can easily send it to their loved ones. Create beautiful Haldi Invitation Cards, Videos, and GIFs online and make the ceremony more attractive.
1. Traditional – Haldi Invitation Card
For a traditional invitation, we are suggesting you a traditional invitation card. Choose the one you like and invite your loved ones.
2. Digital Floral Haldi Ceremony Invitation card
When it comes to choosing an elegant turmeric invitation card, you have taken a lot of time. Now with digital, you can make this design haldi and mehndi invitation card design.
3. Caricature Style – Invitation for Haldi
A caricature invitation card is designed by an online tool and it makes an invitation more elegant and attractive.
4. Kitschy – Haldi Invitation Cards
Kitschy is the perfect theme card if you are looking for a colorful turmeric invitation card. This card always looks attractive and makes a good impression on the people.
5. Quirky Invites – Haldi Invitation Cards
When your guests are given cool and quirky e-invites. So he can come to your wedding.
In Indian weddings, the Haldi ceremony is a common ceremony that is loved by everyone. Playful customs, decorations are the most important thing which makes the ceremony more beautiful and memorable. We show you some interesting and easy ways to decorate your venue with turmeric.
1. Floral Wall Backdrop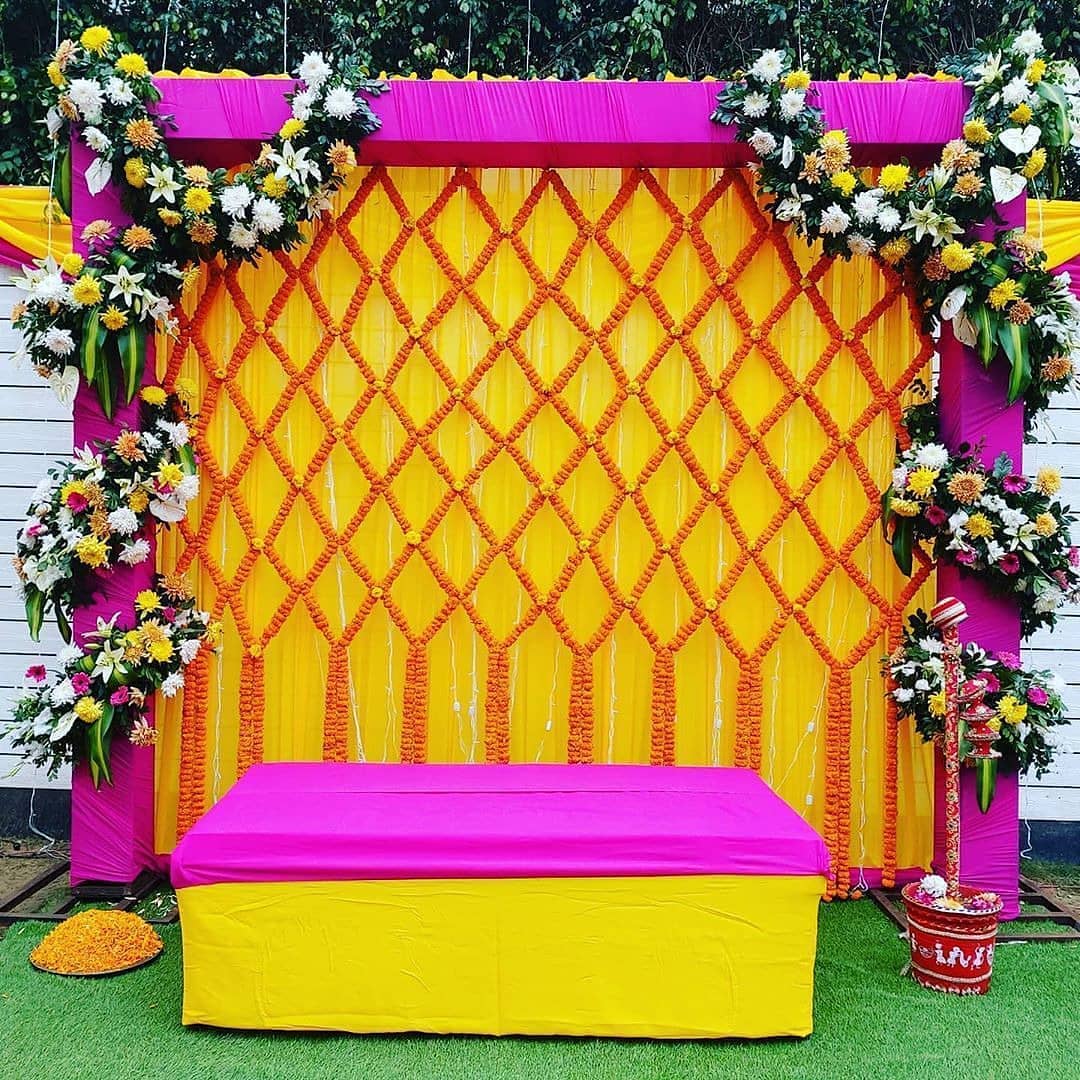 If you are looking for wall background decoration ideas for the Haldi ceremony, then this would be the perfect one. This background is simple and makes the ceremony look adorable.
2. Quirky Photo Booths
A photo booth is nothing new and the decorators leave no chance to surprise you with some fresh and unique decorations. We've checked out some of the latest photo booth ideas. Pin Your Favorites!
3. Outdoor Swings
Want to keep your Haldi ceremony fresh and picture-perfect. Then this hammock or outdoor hammock is the best and will not disappoint you!
4. Colorful Haldi Decoration
We have some decoration ideas to brighten up a wedding. The ceremony will be full of fun with colorful decorations. And beautiful shades will create charm.
5. Funky Installations at the Entrance
The first impression is the last, and if you want a memorable experience for your guests. Then attention should be paid to the decoration of the entrance.
For more such Decoration ideas visit our Youtube channel!
Haldi Holi Party Ideas
The bride and groom Haldi ceremony is the best way for family and friends to have fun at the ceremony. There are a few more haldi holi party ideas that make the celebrations more spectacular.
1. Traditional ceremony
Anyone looking for a traditional wedding then chooses all the traditional ways and enjoy such blissful celebrations.
2. Holi-Themed Haldi Ceremony
Like Holi for weddings, the fun pool party dictates a theme-based ceremony like the Haldi ceremony. A poolside Holi party is a great yet wonderful theme that everyone enjoys.
3. Flowers petals Holi (Phoolo wali Holi)
If you are not comfortable with Haldi Holi, then use flower petals for the Haldi Holi party. It will be a fun party that you will enjoy.
4. Haldi Bath
Haldi bath is a practice also known as the pithi ceremony. The ceremony is the one in which a paste of haldi is applied to the bride and the groom before their wedding. This ceremony is held at both the bride and the groom's place.