8
min read
This birthday is about celebrating a milestone birthday your a sweet sixteen! A sweet sixteen is an important coming of age party that recognizes an individual's growth and achievements while approaching young adulthood. So you deserve a fun party in the meantime. Celebrate your birthday in the best sweet 16 themes style before it's time to get serious about life's big responsibilities. These are types of themes we have for you:-
a. Sweet 16 Themes for Small Groups
b. Large Party for Sweet 16
Lets Dive straight in with all the Superb S
weet 16 Themes for The Best Birthday Party
1. Movie Night Birthday Party Theme
Girls are always excited to watch movie and they love it. The night will be remembered for the warmth of enjoying the big day with your friends and watching your favourite movie with them. The night will be decorated with popcorns, a big theatre screen, movie tickets with your name and much more.
2. Disco Party Sweet 16 Themes
Every 16 year old loves a dance party, so the disco theme is among the great sweet 16 themes. Disco theme party ideas give us a lot of liberty to experiment with decorations. You can start by deciding whether you want to decorate the whole venue, just a corner or a few selected corners to prepare booths and stalls. Other than the major banners and balloons who you can have musical symbols, CD decorations, pictures of your favorite singers or bands.
3. Hunger Games Theme Party
Teenagers might not agree on their favorite among Peeta, Katniss, and Gale, but you will have to admit every teenager has read hunger games or seen the movies and some are even obsessed with it. So if you are one of them, it's time for a hunger games theme party. The first step to decorating the space is covering the prominent walls with black fabric and golden drapes. Red and orange hunger game party decorations too will work well as the color scheme for your hunger games party. If you intend on making it even more interesting and a tad bit dramatic you can take a hunger games birthday poster and burn it from the ends. This will give it a more realistic look inspired by the battles in the Capitol.
4. Stranger Things Theme Birthday Party
Celebrate your birthday with these awesome Stranger Things themed party ideas! Stranger Things have become one of the favourite Netflix series amongst the kids and the teens. This fictional show is based in early-to-mid 80s and revolves around the disappearance of Will Byers in season 1, while the 2nd season explores the repercussions of the mysterious events of season 1. The recent season, season 3, focuses on new evil forces.  With this new season, turn the world upside down for your kid's birthday party! Let you kid's birthday be an Eleven in a world full of Tens with this Stranger Things Themed Party
5. Avengers Sweet 16 Themes
All the Avenger fans can assemble here as we are going to look at awesome ideas for an Avengers Themed Party. You may ask, why? As the Avengers Endgame sequel is going to come this month and the hype is at its peak, fans of all ages are feeling 'Hulkian' levels of anticipation. Will it be Thor's new hammer which will get Thanos? Or will Captain Marvel perform some ultra-powerful move to fight him? Whatever may happen, let's look at some great Avengers Theme Birthday party ideas to get another slice of the MCU in our lives. 
6. FRIENDS S
weet 16 Themes
Looking for a unique and crazy sweet 16 theme? How about a FRIENDS-themed birthday? For all the fans of Ross, Rachel, Monica, Chandler, Joey, and Phoebe we have the best Friends-themed birthday party ideas. The cutest quotes, 'FRIENDS' themed food, such cool decor we are going to leave you totally floored. Paying attention to detail can make occasion more spectacular!! Every teenager loves friends and they are gonna love the party too.
7. Bollywood Theme Party
For the ones who love their movies as they love themselves, a Bollywood-themed birthday bash will be 'jhakaas'.  We all have grown up watching films and some of us have also idolized movie stars, so how about we imagine infusing some Bollywood theme party ideas for your birthday? The music will definitely be foot tapping as you will have a lot of Bollywood tracks to choose from. And the decorations would be out of a Karan Johar film song. Here you can go real filmy and try adding poster artwork with memorable dialogues from your favorite films. Sholay's dialogues are really popular for this kind of artwork. You can also go for kitschy minimal posters which make the onlookers feel engaged. Moreover, your guests will be enjoying the decorations and making wild guesses with respect to what these posters are referring to. This Filmy party Bollywood style requires an appropriate suiting interior.
8. Karaoke Theme Party
Have a rocking sweet 16 party with a karaoke theme. The decorations and the cake everything with this theme can be customized. Dressing up is as important as decoration. It will not only make the party more interesting it will also set the mood for the whole party. Karaoke parties can be great places for a shinny-shimmery dress, you can also have a themed dress code. For example, you can have a 90's or 70's theme dress code.  
9. Halloween or Angels and Demons:
Now this something to do as a task. The reason very few girls try out this birthday party theme is the hassle in gathering the make up stuff, accessories and outfits to accomplish this theme. Red horns, wigs and fake nails, fangs and elegant contact lenses are the birthday party dresses that are needed to make it a perfect halloween themed sweet 16 party. If you all set to take the efforts then go ahead and make it a scary yet entertaining night for everyone.
10. Neon Sweet 16 Themes
This Sweet 16 party theme is just to interestingly make everyone wear a neon-bright colored t-shirt or any outfit. Light green, peach, pink or yellow any color will do it. It just has to be something unique than people usually wear for a Sweet 16 Party dress. If you are planning it at night, glow-in-the-dark costumes would also be a great idea.
11. Harry Potter Themed Birthday Party
If you are a Harry Potter fan or want to throw a birthday party for a hardcore Potter-head, now you can with a kickass Harry Potter-themed birthday party. Your teenager guests are going to love it. To entice your guests to the fun zone, you can have a platform 9 ¾ – inspired entrance. Let them walk into the magical party just like Harry did.  Recreating Great Hall from the movie can add more drama to your theme.
12. Olympic Themed Birthday Party
Everyone has got the Olympic fever. And why won't they? This year, the Olympics have been the most spectacular event ever. So, why not pump up your upcoming birthday with the same fervor. From the decor to the Food and the games. Get the sporty spirits pumped up with the DIY Olympic-themed decor items at your Venue. You can make DIY decor items with household items or else approach nearby stationery for cooler options. You can use danglers of different flags, Olympic color ribbons, or balloons to enhance the theme.
13. The Royal Spa
Teen girls love being pampered, especially if their world revolves around makeup, blush and all that gloss! Imagine her excitement, when she see a special spa theme for her and her girl gang. The manicure/pedicure session along with spa will definitely make her feel royal.
14. BBQ Party Sweet 16 Themes
 Barbecue parties
are a common trend and very popular so if you are planning a barbecue party be sure to get all the details right. This is a superb party theme for birthdays. It requires very little effort and has some amazing results.  You can Barbecue parties in your 
backyard.
Moreover, the party is great for summers and winters. A barbecue party without proper lighting would be very bland and lack glamour. To make the party more appealing and decorative, use
Fairy lights
 or Edison bulbs. It can be a single color or you can even have multicolor lights. These are optional but we advise you to absolutely have it for the best Barbecue party experience.
15. Instagram Theme Party for the Queen
If your child loves to take pictures, keeping a 
photo booth
is a must. Set-up the room with 16th birthday aesthetics. To make it more personalised use thought bubbles of the phrases your child commonly uses. Use cool hashtags, emoticons and phrases from their favourite show or movies. Use props from famous shows and movies. If you have decided on a theme then use the props that represent the theme.
If the birthday is in peak summertime, there is no better alternative to pool parties. Give them chilled, relaxed at the same time fun-filled pool party. For this, you may need a great DJ. Combining this party with a mocktail party will raise the bar. Your child will surely remember this experience for a lifetime.
 17. Scavenger hunt
If your child grew up reading Nancy Drew novels or is a big fan of fictional characters like Sherlock Holmes and Byomkesh Bakshi, then scavenger hunt can a go-to theme. Set up clues in your house and the neighborhood. The clues should be interesting but easy. Make search parties and let the kids explore and have a fun time among themselves.
18. Amusement Park 
If your child loves rides and rollercoasters, what is a better plan than take their group to an amusement park? You could celebrate your whole day there, which would be an adrenaline-filled and thrilling way to enter into adulthood
19. Sweet 16 Slumber Party
Slumber parties are a fun tradition and an integral part of growing up. For teenagers and even some adults having a slumber party for their birthday could be a fantasy coming to life. If you want a slumber party for your birthday, you can start the celebrations a day earlier. And give your friends a chance to be there at midnight. Whenever or however you throw a slumber party, one thing is certain and that is fun.
20. Dinner Night
Take your child and their friends to their favorite restaurant. Give them a luxurious, calm night to themselves, which will help them enjoy and share a good moment among themselves. This is a very simple and subtle birthday party idea.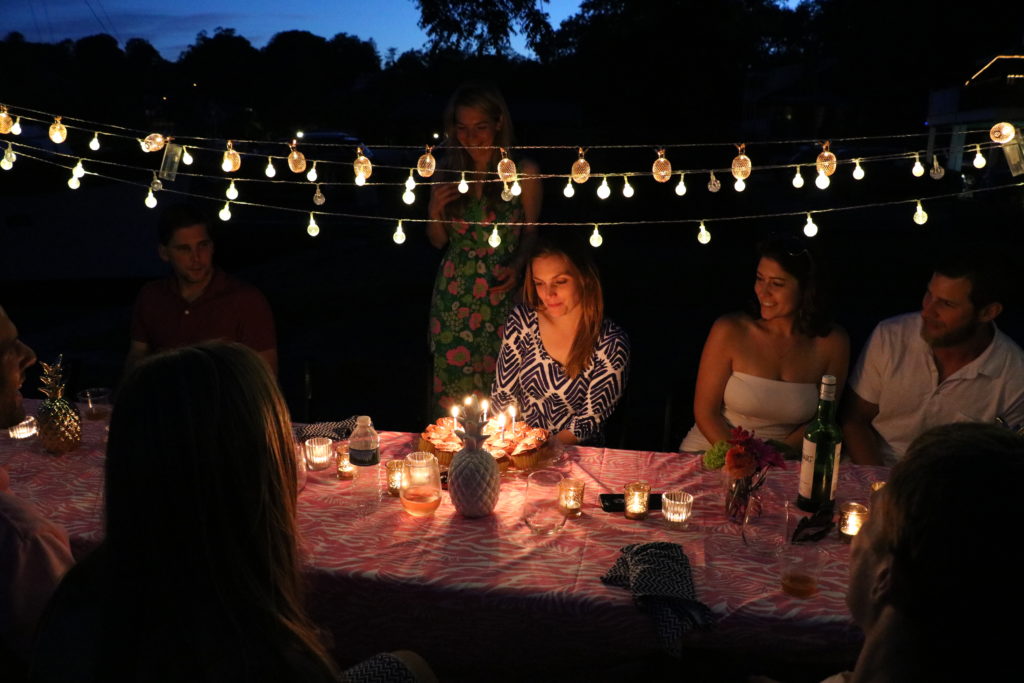 21. Movie Night
If your kid is a movie buff, you will not regret this one. You could do a movie marathon of their favourite genre or some selected movies they love. Set up a projector or a big screen, comfortable cushions to sit, heat some popcorns, and slide in their favorite cold drinks. You could decorate the house like a movie theatre and use decorations like now streaming posters, 3D-glasses props, popcorn props and all the aesthetics associated with movies. 
Do tell us which one is your favourite among all the sweet 16 themes and checkout our Facebook page.